The Garcia Brothers
Writer, Directors repped at APA, Beverly Hills, CA
Drew and Nate Garcia are prolific filmmakers with experience in independent, commercial and studio productions.
In 1994 they made their first movie at the ages of 8 (Drew) and 4 (Nate). This home movie kicked off a collaboration that would define their lives.
They spent all their free time creating movies. Indiana Jones, Zorro, and Star Wars stories were their favorites but the movies also included the genres of space, war, and horror (Bigfoot was the go-to villain).
Drew and Nate Garcia shooting one of their home movies.
After high-school Drew left for college and it seemed like the dream of filmmaking was over. But after they had both finished school, they knew it was time to resume the journey toward making their own films.
For years they made a living creating corporate and non-profit videos but they knew that they needed more experience directing narrative work. In 2015, they turned their focus toward directing commercials. Their first obstacle was creating spec ads to sell themselves as a directing team but they didn't have enough money to fund one. That's when Drew came up with a creative and risky solution: They decided to enter commercial video contests full time. The plan worked. For nine months they made a living from the prize money (over $80,000).
The brothers directing their short film The Lighthouse.
They cut together a sizzle reel and shopped it around to ad agencies. After a lot of hard work they finally began landing commercial directing gigs. Within a short period of time, the brothers were directing national ads for brands like Chevrolet, Klondike, Big Red and Coca-Cola.
In 2017, they self-financed their calling-card short, HERO. The film focuses on two brothers who blur the line between fantasy and reality. Drew and Nate worked tirelessly casting the film (most of the cast had never acted) and even resorted to going door-to-door to find the right actor for one of the roles.
After wrapping production, their priority became finding the perfect score. They began their collaboration with composer Robin Hoffmann, after discovering his work on Soundcloud. Robin is a talented musician and composer living in Berlin, Germany, who specializes in composing for live orchestras. They traveled from Boise to Prague in August 2017 to hear the Prague Philharmonic Orchestra perform the score for HERO.
Listening to the Prague Orchestra perform the score for HERO.
After a successful festival run, including numerous awards, HERO captured the attention of Hollywood. Drew and Nate signed with APA, in Beverly Hills, CA as writer/directors in May 2019.
They are currently developing their debut feature film.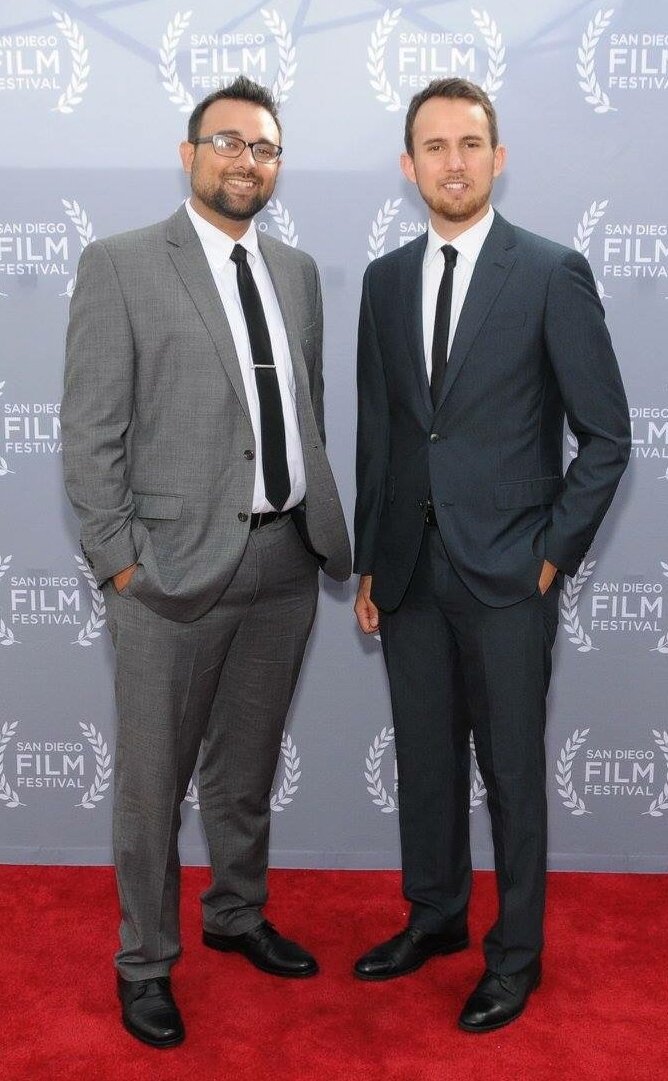 The Garcia Brothers at the San Diego Film Festival, where HERO won Best Dramatic Short.
Check out these award-winning short films, directed by Drew and Nate Garcia:
Representation
APA, Beverly Hills, CA
Feel free to reach out to the Garcia Brothers using the contact form below!